Samsung Galaxy S10 Blue Light Glass Screen Protector
Brand new Anti Blue Light Glass Screen Protector for the Samsung Galaxy S10
Package:
•1 x Samsung Galaxy S10 Glass Screen Protector (Anti-Blue Light)
•1 x Microfibre cleaning cloth
•1 x Alcohol prep pad
•1 x Eco card box
•1 x Dust remover stickers
(Phone is not included)
Anti Blue Light - Getting headaches or finding it hard to sleep when using your phone? This Samsung Galaxy S10 Screen protector blocks out the harmful light in the 380-480 Nanometer range while not turning the screen into that annoying orange/brown colour like your phone settings.
*Once installed, enable touch sensitivity is phone settings (see photos):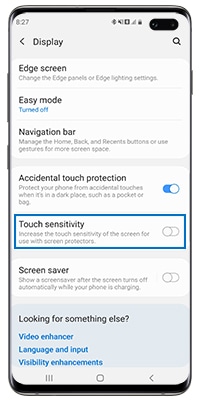 *Note: This Samsung Galaxy S10 Glass Screen Protector is not case friendly.
Features:
HD Clarity – The Glass Screen Protector preserves Touchscreen Vibrancy, Sharpness and Clarity
Clear coating – This Screen Protector combats against Scratches, Fingerprints and Oil
0.33mm thickness - for best balance of Thickness, Flexibility and Hardness
Premium adhesive– 3 Times stronger than a standard Screen Protector
Anti-shatter – Fortified to avoid splinters, scratches and shatters
9H hardness- Strong, flexible glass – the best Glass Screen Protector rating you can get
Compatibility: Samsung Galaxy S10 (Please see other listings for Samsung Galaxy S10 Plus)