UV Glass Screen Protector for Samsung Galaxy S20 - Clear
Regular price
$24.95
$0.00
Unit price
per
Tax included.
Shipping
calculated at checkout.
Brand new UV Glass Screen Protector for the Samsung Galaxy S20.
Package:
1 x Samsung Galaxy S20 UV Glass Screen Protector
1 x Wet (Alcohol) Wipe
1 x Cleaning Cloth
1 x Dust Absorber Sticker
1 x Liquid Glue Bottle
1 x UV Curing Light
Installation: https://youtu.be/HK-cfjqvC2I
PLEASE READ: You will need a micro USB cable to connect the UV Curing Light. Please note that we cannot be held responsible for improper installation of this UV screen protector. Pre-existing S20 film must be removed.
*Once installed, enable touch sensitivity is phone settings (See photos):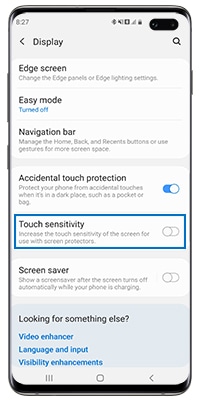 Features:
LASER-CUT TEMPERED GLASS - The Screen Protector has been designed with laser-cut tempered glass
OLEOPHOBIC - the Screen Protector Glass features an oleophobic coating that resists oils
EDGE-TO-EDGE COVERAGE - Our Screen Protector will precisely fit the screen of your device
UNOBSTRUCTED DESIGN - Despite its outstanding coverage and great amount of protection the Screen Protector
HD CLARITY – The Screen Protector preserves Touchscreen Vibrancy, Sharpness and Clarity
CLEAR COATING – This Screen Protector combats against Scratches, Fingerprints and Oil
TRIPLE LAYERED - Explosion-Proof Film, Silicon Coating, Tempered Glass, Nano Structured Coating combine into one Screen Protector
REACTIVE – Retains touchscreen responsiveness through the Screen Protector
SMOOTH EDGES - 5D Full edge design; which means this Screen Protector will add to the Aesthetics
PREMIUM ADHESIVE – 3 Times stronger than a standard Glass Screen Protector
PROOFING: Shockproof Screen Protector as well as explosion proof
QUALITY: Only the best quality Screen Protectors
**This is a third party Samsung Galaxy S20 Screen Protector and not made by the manufacturer of your phone**

Compatibility: Samsung Galaxy S20, Please see other listings for Samsung Galaxy S20 Plus / S20 Ultra
---
Share this Product
---